Testimonials
New testimonials:
We replaced 9 sliding windows and one patio door in May 2017 by BHIExterior and an experienced installer. We are very happy with the excellent finishing work for the entire job. We just experienced the first winter with the new windows after a 2 weeks cold snap. On the coldest days with a temperature differential of almost 50 degrees C between the outside and the inside, the thermal panes are perfectly sealed with no condensation. There is just a tiny bit of air leak around the sliding track with a very little ice build-up at the very bottom corner above the track during the coldest days. But, no complain. The patio door is just perfect and being used every day. We found this firm to be ethical and pleasant to deal with. It only collected payment after the entire job was completed to our satisfaction. Anyone looking for a reliable company to do a great job and to support our local business, this is the firm that we highly recommend and for repeat business. Rick T submitted to BBB
After talking to many different window & siding companies then having three different quotes done… I'm so happy with our decision to hire BHI with our exterior renos. We had wood siding replaced with vinyl, patio doors & a few windows replaced as well as exterior rot issues around two windows all fixed. The employees who worked on our home were experienced and professional. I was confident in the work they did, as they were always open to discuss what was going and very transparent. BHI is not like other companies who just do a cover up job, they do it right. I will definitely be hiring them again for any roofing needs and to replace the remaining original windows. Ashley K submitted to BBB
I contacted BHI to help locate source of water leak from roof to interior ceiling – a problem that other roofers and home inspection firms were not able to identify/fix. ****** and his colleagues visited property to survey problem area. Unlike other firms contacted, they took the time to hear out/check out aspects of the problem rather than just giving a 'quick assessment/quote'. Their recommended 'solution' included some 'low-cost' additions e.g. water diverted around chimney box that past roofers did not even mention. I also had BHI give quote on replacing siding. The estimate was very competitive compared to other firms. The BHI crew doing the work were very professional – knowledge and customer interaction. I was very impressed with work done. Also very confident that they identified and fixed the leak problem. Will look to engage BHI for future needs and recommend to others. Ron K (Source BBB)
The company repaired a hole in my vinyl siding and also noticed another problem with my vinyl siding. They repaired both problems and I am very pleased with their service and I would definitely recommend them! P.H. (source BBB)
Had these guys out to fix siding and air barrier problems with a recent Reno and was very pleased with how fast they were and the quality of work. They even fixed issues I had not noticed in order to comply with the building inspector. Would highly recommend them. Stephen B(Source BBB)
Last September we decided to try your product on the front of our home and around our sun room to replace the vertical cedar that we were finding too troublesome to maintain. We were hesitant to complete the whole house at that time as we were concerned about the cost, and were not certain if the "final look" would be what we wanted. After spending the winter looking at your installed product, we came to the conclusion that the rest of the house just had to be completed with the same product.
We had no hesitation in once again contacting Gaetan & Mike of Basic Home Improvements Inc. as we were totally satisfied with their work last September and considered their two installers Eric & Sebastien to be true professionals with a lot of pride in their workmanship.
All work has now been totally completed and we could not be more happy with the end results. Pictures are enclosed showing the final result. We think our home still looks like it has "cedar siding" which is the look we were trying to maintain.
A BIG THANK YOU TO GAETAN, MIKE, ERIC, & SEBASTIEN of Basic Home Improvements Inc. for all their professional help in making our "dream" come true.
Bill Bratt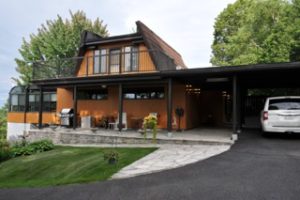 "Hi Mike & Gaetan,

While we knew we had to replace the cedar siding on our above home as  regular required maintenance was becoming a problem, we were having a difficult time in finding another product that could provide a similar "new cedar" look and be maintenance free.

We visited Gentek Building Products and inspected many siding options, but could see nothing that could provide us with what we envisioned until they introduced us to a new product called "Longboard". This product appeared to be exactly what we needed, but we still had concerns about it being installed in our application. Gentek then referred us to Mike & Gaetan of Basic Home Improvements Inc. advising that they had installed their show room display of this product and that they could make it work for us.

Mike & Gaetan subsequently visited our home and while they acknowledged it would present challenges to them, they assured us it was definitely possible, and that their installation crew of Eric & Sebastien would ensure that everything would get done correctly. The contract was signed, the product ordered and the enclosed pictures show that they delivered exactly what we envisioned.

A big thank you to Mike & Gaetan for their patience and understanding our concerns about what we were trying to achieve, and to Eric & Sebastien for their professionalism and pride in their work which resulted in making it happen. Pictures of the final result are enclosed for your files. Thank You Guys." Pauline & Bill Bratt

"Please accept my appreciation for the completion of the window and partial siding replacement work on my home. Your team provided highly professional work from start to finish.  Your initial consultation, quotation preparation, accurate design measurements, fair pricing for high-quality windows, and the timely installation and craftsmanship made for a stress-free and enjoyable renovation.  I am pleased to provide positive feedback and my recommendation to prospective clients as may be needed.  In fact, I can demo the windows or installation if it helps others to decide on Gentek Windows, with you people as my highly recommended contractor for the work.  Again, thank you for your expertise, integrity and quality of work." Sincerely, Brian Moyes
"Over the last several years, the team at Basic Home Improvements has been involved in many renovation projects at our home, large and small.  Basic Home Improvements has always met our expectations because of their team's attention to detail, the quality of their products and service and the price is always right.  We will continue to keep doing business with them."
Jean Landry
"We contacted a number of potential companies when we needed to replace the windows and doors in our house.  We were looking for a reliable company with quality products and a fair price.  This is what Basic Home Improvements gave us and more!  They gave us expert advice on the products available and what would meet our needs, they did a great job on the installation and they were happy to help us AFTER the sale and installation.   Couldn't ask for anything more!"
Raymond Lefort
"We would like to thank you for the excellent service that you provided during the replacement of windows in our house. The specifications provided on the contract, including the timeframe was respected. Your installers displayed professionalism, cleanliness and quality in their work. We would not hesitate to recommend you."

Celine and Benoit Thibault
"I am writing to let you know how pleased my husband and I were with the competence and level of service provided by your company and in particular by the crew assigned to our project. As on our previous occasion when we engaged your services, we were most impressed with the care, dependability and professionalism demonstrated by your staff and would happily recommend your company to others."
Mrs. B Jeffrey
"I was particularly impressed with the professionalism, knowledge, dedication and excellent work ethic. They do whatever it takes to get the job done right and on time. They worked on our house with the same enthusiasm, perseverance and attention to detail as if it was their own home."
Vern Phillip